There are different configurations to connect devices on a network, such as peer to peer (used in Bluetooth) and Star Network (used in mobile network and WiFi). Deitres uses topology, known as Mesh network, to connect products.
The main feature of Mesh Network is that each network-connected device, apart from fulfilling its original function, is a smart repeater for all devices/nodes. It is a non-hierarchical network, where all devices interact. This type of topology allows using alternative communication paths among nodes, in case of failure.
When there is power or Internet outage, each node will automatically and smartly select a new optimal path to communicate messages through other connected devices. That is why this type of network is robust and reliable.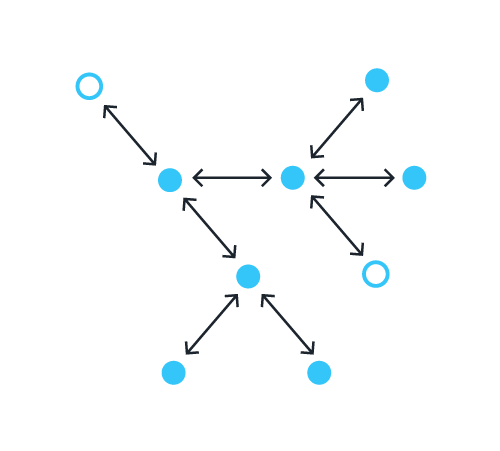 Our Mesh Network
After years of experience in finding solutions with different types of Mesh technologies, Deitres ® could create its own solid and scalable ecosystem to make IoT products with high- quality and stable standards.
This ecosystem is made up of elements, which together form the basis of:
D-Transceiver ®: OEM transceiver module, created by Deitres ® and used in all its products.
Domo ®: Web platform for Mesh network management, to manage and maintain Mesh network.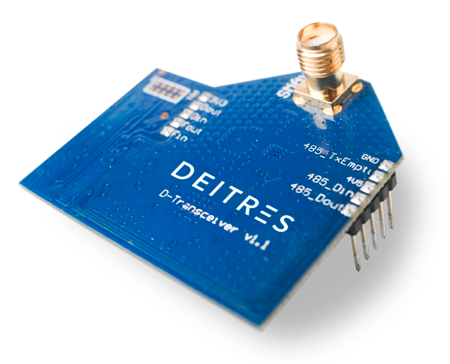 D-Transceiver ® is an OEM transceiver, resulting from the technology transfer in favor of Deitres ®made by Microchip, leader in innovation in embedded devices. This means and shows that the team of Deitres ® has risen to the occasion and we are proud of that achievement.
This versatile module is used in all the products of Deitres ®, taking advantage of the experience to provide solutions.
Especificaciones del módulo
902 a 928 Mhz frecuencia
Encriptación AES 256
1W / 28db
It is online software that does not need to be installed. It has a web interface to use in all the devices connected to the Internet and a multi skilled database with dedicated server and permanent back-up.
It enables us to manage Mesh network and use it for all solutions developed by Deitres ®. It has tools to maintain the network and modules for final users.
Clients will need username and password to access Domo, which will be provided by Deitres ®.
Mesh network is managed from this type of profile. Domo gives access to a map with the devices that make up the network of a unique receiver. From there, profile users or company profiles can be created (with or without write access). Profiles with write access can also perform multiple functions related to the network.
In Domo ®, Deitres ® has implemented tools to manage own networks and give excellent after-sales service.